As an independent research project, Hames Sharley, with South Australia's Commission for Integrated Design and economic consultants Pracsys developed a pilot version of an activity centres toolkit (known as ACT 1). The purpose of the activity centre toolkit was to investigate methods of evaluating the performance of new and existing activity centres from an economic, planning and design perspective.
Hames Sharley is now embarking on ACT 2 by undertaking further ground-breaking research to augment the work undertaken with the pilot program. The pilot had a focus on economic and amenity issues. ACT 2 is concerned with the context, structure, design, utilisation and place characteristics of activity centres. These elements define the configuration, appearance and attractiveness of activity centres, and determine the level of investment required in delivering commercial product and public infrastructure by both the private and public sectors.
As an initial step in the development of ACT 2 Hames Sharley has completed a comprehensive analysis of the activity centre policy setting in all Australian jurisdictions and has researched world's best practice to glean approaches used overseas. The findings of this research reveal that Hames Sharley is in a unique position through ACT 2 to develop a uniquely Australian product focusing on objective criteria rather than the more common guideline approach adopted by planning authorities and many consultants.
The toolkit addresses the gap between outcomes sought by government and those feasible for the development industry. It does this by considering the economic needs of activity centres together with a definable, best practice design approach to enable the implementation of high quality activity centres.
ACT 2 is a strategic development tool enabling decision makers to create competitive activity centres with the best planning and urban design outcomes. It seeks to avoid inefficiencies by delivering great activity centres using benchmarks derived from our own knowledge base and exemplar projects. ACT 2 is a major research initiative of Hames Sharley which will be of tremendous value to both the property development sector and planning agencies at the federal, state and local government level.
Case Study
West Lakes
West Lakes is based around a large Westfield shopping centre located approximately 14km from the Adelaide CBD. The shopping centre contains a department store, two supermarkets and two discount department stores, and an expansion in 2006 added a large food court, fashion strip and cinema complex. The mall is located between the river and AAMI football stadium, approximately a kilometre from the coast and adjacent to the Grange golf course.
While there are commercial operations, such as the Lakes Resort, facing on to the river, the mall is separated from these uses by an abundance of car parking. The West Lakes library is also located within the site.
Subiaco
Subiaco is an inner western suburb of Perth, located less than four kilometres from the Perth CBD. It contains medium density housing, a strong fashion and food main street, entertainment, recreation, major hospital facilities and a concentration of professional services employment in proximity to the train station. It is an established inner suburb that underwent transformation when a portion of the train line was undergrounded and industrial land redeveloped to accommodate a diversity of new housing and employment uses, facilitating a connected urban centre.
Norwood
Norwood is an inner eastern suburb of Adelaide, located approximately four kilometres from the Adelaide CBD. Development occurs along the main street, The Parade, comprising a diverse mix of restaurants, bars, fashion and commercial services. In addition to retail, the area accommodates a reasonable proportion of professional and medical services employment. Several bus routes service the centre, but there is no train line through Adelaide's eastern suburbs. Norwood contains a mix of older houses, and medium density urban infill developed in more recent years.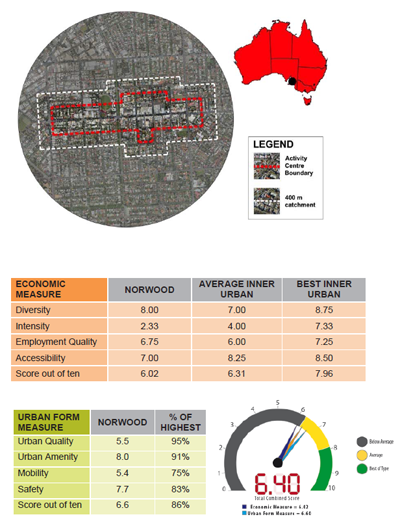 Elizabeth
Elizabeth is located within the Northern Adelaide region on the major transport route to Gawler. Under the 30 Year Plan, Elizabeth is identified as a centre of regional significance, however the centre is currently built primarily around Elizabeth Shopping Centre. Although the third largest shopping centre in Adelaide, it lacks a diversity and quality of employment as befits its status in the hierarchy. The train station interchange will undergo a $15 million upgrade as part of the state government's $2 billion investment into public transport over 10 years.